We have successfully carried out our standard raw material test – based on European REACH standard – on our routine raw material and the results are found satisfactory and non of the 183 Substances of Very High Concern (SVHC) was found in our submitted sample. We passed all the RoHS test as well.
For  further information on our testing reports, please do not hesitate to e-mail to Vera on "hotline@benz.com.hk" for details.
我们已经成功把我们的常规原材料进行了欧盟 REACH 和 RoHS 标准的测试,结果令人满意,并且在我们提交的样品中找不到183种高度关注物质(SVHC)。 我们也通过了所有RoHS测试。
有关我们测试报告的更多信息,请随时发送电子邮件向"Vera 李小姐"查詢.
Eyebrow Razor Blade不锈钢修眉刀片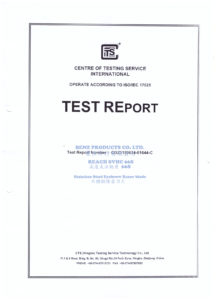 High Carbon Steel Blade高炭鋼刀片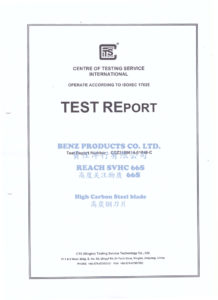 Eyebrow Razor Blade不锈钢修眉刀片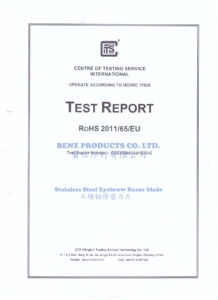 High Carbon Steel Blade高炭鋼刀片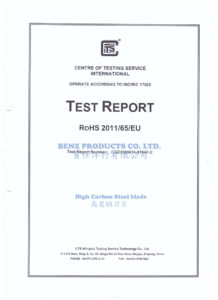 Stainless Steel Peeler Blade 不锈钢刨皮刀片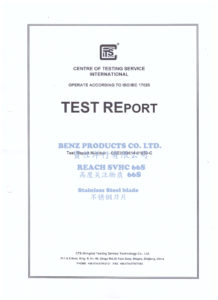 Stainless Steel Blade 不锈钢刀片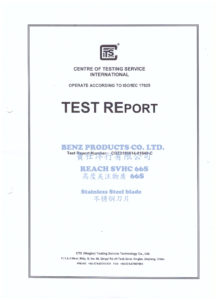 Stainless Steel Peeler Blade 不锈钢刨皮刀片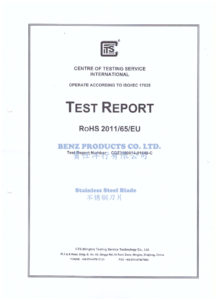 Stainless Steel Blade 不锈钢刀片