We specialize in custom-made OEM cutter blade projects for our business partners.
To assist us to make our quotation to you, please supply us the following information:
The shape and the design of the blade (preferably with a technical drawing)

The size of the blade in terms of its length, width and thickness (preferably in metric scale (mm)).

The Cut Edge design : "V" shaped "2-sides Beveled" or " One-side beveled"

The allow +/- size tolerance

The proposed usage of the cutter blade - for utility cutter, for kitchen equipment, razor etc.

The required raw material

The required hardness

The target order quantity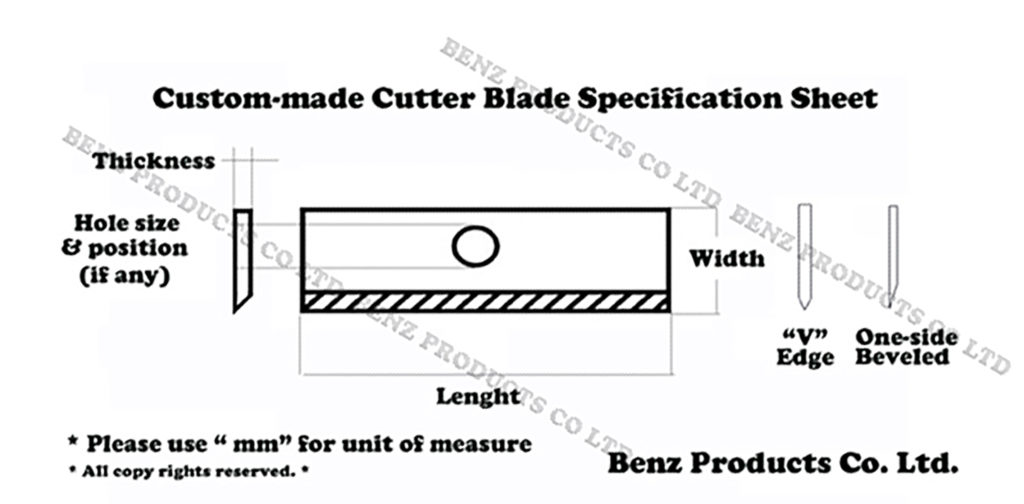 Please e-mail the above information to Vera on "hotline@benz.com.hk" for our speedy action and reply to you !
我们专业为客户和业务合作伙伴定制OEM刀片项目。
为了使项目得以开展顺利,请为提供以下信息:
要求刀片的形状和设计(最好用工程图展示)
注明刀片要求长度,宽度和厚度(最好用公制(毫米))及允许的+/-尺寸公差
要求刀片的刀锋设计 – "V" 形或单边磨锋 ?
要求刀片的使用建议和刀片的用途切割什么东西等 - 是一般文书用, 家居应用,或厨房设备等。
所需钢材
所需的硬度
目标订单量
刀片定制的规格图表